Jon Heder Net Worth
How much is Jon Heder worth?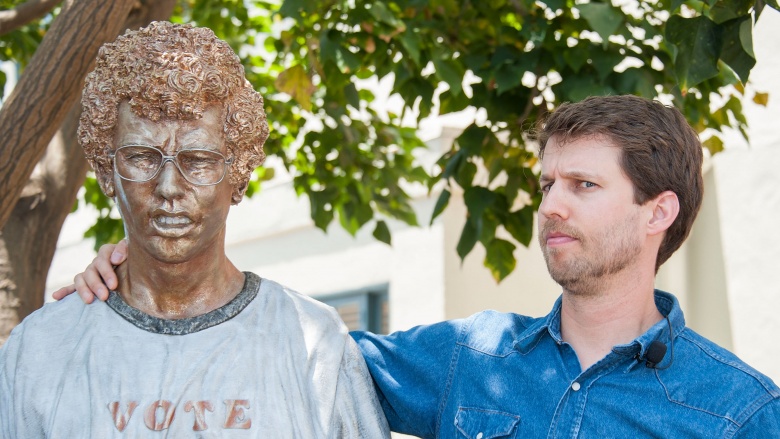 Jon Heder net worth: Jon Heder is an American actor and filmmaker who has a net worth of $15 million dollars. An actor, screenwriter, and filmmaker, Jon Heder is most widely recognized for his role as Napoleon Dynamite in the film, "Napoleon Dynamite". Since then, he has appeared in such films as "Blades of Glory", "When in Rome" and "Just Like Heaven". Jonathan Joseph Heder was born in Fort Collins, Colorado in October 1977. Jon has an identical twin brother named Dan. Jon was a member of the Drama Association at his high school in Oregon. He helped work on a student CGI film titled Pet Shop that earned a student Emmy in 2005. While he attended Brigham Young University Heder starred in a short film called Peluca. Peluca was extended into the film Napoleon Dynamite in which Heder played the lead role. Heder only received $1000 for his role in the film that earned $44.5 million at the box office. Jon Heder won MTV Movie Awards for Best Musical Performance and Breakthrough Male Performance. After that Heder appeared in the films The Sasquatch Gang, Just Like Heaven, The Benchwarmers, School for Scoundrels, and Blades of Glory. He has appeared on the TV shows My Name is Earl and How I Met Your Mother. Jon is married his wife Kristen and they have two children and live in Los Angeles. He can speak Japanese and serves as a Scoutmaster.
More about the earnings of Jon Heder
Actor Jon Heder has a networth that has to be considered high.
Inspirational Quotes by Jon Heder
I'm not that into reading. If I'm gonna read, I'm gonna read some cool sci-fi book or something, not some stupid self-help book.

Jon Heder
I just did an ad with Microsoft. I'm dressed as Napoleon, and I get to slap Bill Gates.

Jon Heder
I never read a self-help book except for the Bible.

Jon Heder
I've always liked Kate Winslet. She's pretty, smart, and talented.

Jon Heder
Build a rocket ship and leave the earth!

Jon Heder